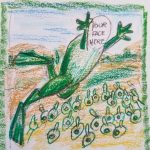 Originating from San Francisco, artist/ cartoonist Kevin Brady moved to Glencoe in Calaveras County, CA to live with his lovely wife and muse Marta Johnson. He continued to pursue and develop his interests in graphic design, cartooning, watercolor painting (western and eastern), sign painting, murals, t-shirts  and whatever else of interest crossed his desk. Currently he is designing a mural for his hometown of Mokelumne Hill.
He is mostly self taught while taking classes over the decades whenever possible.
Currently the study of fine art watercolor technique and color theory is rounding out and fulfilling his eclectic interests.