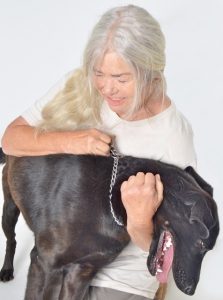 Patty Payne
My passion is art and I have been an artist all my life.  I am always doing some kind of art.  Over the years I have used all art media. Lately I have been painting oil on canvas and pen and inks. Although I have painted in many styles over the years, I consider myself an expressionist artist because I am attempting to depict not reality but rather the emotions  the object  arouses  in me.
I also love photography and I am one of the photographers at the animal shelter.  I photograph dogs hoping the photo will help them get a forever home.  When I photograph dogs I try to capture the personality of the dog.  I am an animal lover and love painting and photographing animals, but I also love photographing nature.  One of my favorite places to photograph is the desert habitat.
I have shown my art  in galleries, restaurants and private showings in our foothills,  Oakland  and Oregon.  I have won ribbons including best of show at art shows and the county fair.  I studied art under the expressionist artist James Harkins and also studied art and photography at Columbia and Laney College.
I have lived in beautiful Calaveras County for over 32 years.  I now reside in Sheep Ranch with my husband and two lovely dogs.
Here is an interview with me on KQBM's Everywoman's Hour with Kat Everitt, host. 
Patty Payne's work was featured at the Manzanita Arts Emporium in Angels Camp, and is now available online by contacting the artist.   patricia@goldrush.com
Some of the works below may have already sold, so please inquire by contacting the artist directly.
Both equine paintings directly below are 49"X34" Acrylic on board –
$1,300 each.