Manzanita Arts Emporium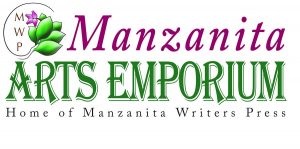 1211 S. Main St., Angels Camp, CA 95222 • 209-728-6171 • manzanitawp@gmail.com and manzanitaartsemporium.com • manzapress.com
January 2020 Calendar
Mondays January 6 & 20: Morning Manzanita Writers write and share current pages from 9 – 11:30 am in downtown Angels Camp at Manzanita Arts Emporium. Journal writing and sharing, manuscript feedback with fellow writers. All genres and levels, 18 & over. FREE. Email for information if it is your first visit, at manzanitawp@gmail.com. or call 728-6171.
Monday, January 13 & 27: Evening Writers Unlimited Meeting from 6 – 9 pm in San Andreas (see website for location at 255 Lewis Ave). Email manzanitawp@gmail.com before attending for the first time to get information. FREE. Adults 18 & over. All genres and levels welcome.
Saturday, January 18, Angels Night Out, every third Saturday in downtown historic Angels Camp from 5 to 8 pm. Many shops stay open. Enjoy music, food, libations, dancing, games, and activities. The Manzanita Gallery remains open until 8 pm. There will most likely be music at various venues, including Manzanita.
Sunday, January 19, 1:00 – 2:00 pm – Monika Rose shares her new early reader children's book Bed Bumps with children ages 2-8 at Manzanita Arts Emporium. Interactive Puppets & storytelling. Free event!
Saturday, January 25 – 4-6 pm – Stephen Finlay Archer – Book Launch – McCarthy Gold, Book 4 in his Irish Clans series. Refreshments, Irish banter, a short talk, book signing, and Irish historical sharing. Get your Irish on!
Song Posse meets Saturday, January 18 & 25 – from 6:30 to 8:30 pm: Acoustic musicians share their talents at Manzanita Arts Emporium. Free. For more information, call Chrys at 209-728-1439 or 209-736-0210, or the gallery at 209-728-6171.
Weekly Piano lessons with Chrys Mollett at Manzanita Arts Emporium. Sign up, for all ages. Family rates. Contact Chrys at 209-728-1439 or 209-736-0210, or gallery 209-728-6171.
Publishing Services: Nonprofit publisher, reasonable services in Editing, Book design and Layout, Book Publishing, Writer Support, Workshops & Classes. Contact us for an appraisal of your book project. We can help.
Mark your calendars: Look for our Manzanita Speaker Series to resume February 23, the fourth Sunday in February. 4-6 pm, with a slideshow and presentation on Southwestern Petroglyphs by Buzz Eggleston. Keep an eye peeled for intimate music concerts coming up at Manzanita with talented local musicians. Get your heart set on a Saturday art reception February 8, for featured February artist Twyla Olsen. Weekly Voices of Wisdom free writing classes for 55+ seniors resume February 4, from 1-3 pm, so get your quills poised and journals primed.

Classes -Workshops –Music Lessons – Artist Cooperative – Literary and Arts Center – Bookstore – Writers Unlimited manuscript review meetings – Music – Open Mic Nights – Manzanita Speaker Series – Art classes – Voices of Wisdom writing classes for seniors

manzanitaartsemporium.com and manzapress.com

Check out the events and postings on Facebook and Instagram @manzanita.emporium   –    @manzanitawriterspress
209-728-6171 – Regular Gallery Hours: Thursday through Monday, 11-5
Publishing services for writers • manzapress.com Manzanita Writers Press is a non-profit 501(c)3 creative arts organization & publisher devoted to the development and support of the literary, music, and visual arts community in Calaveras County and the wider Mother Lode region. Classes -Workshops –Music Lessons – Artist Cooperative – Literary and Arts Center – Bookstore – Writers Unlimited manuscript review meetings – Music – Open Mic Nights – Manzanita Speaker Series – Art classes