Silversmith & Handcrafted Fine Jewelry
Sherri Bloomer lives in Arnold in a mountain community that inspires her daily. Many of her designs are inspired by nature and the beauty found in our world. See her online offerings, too, at Shiny Sparkly Things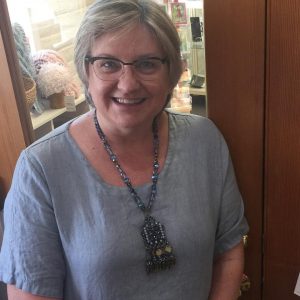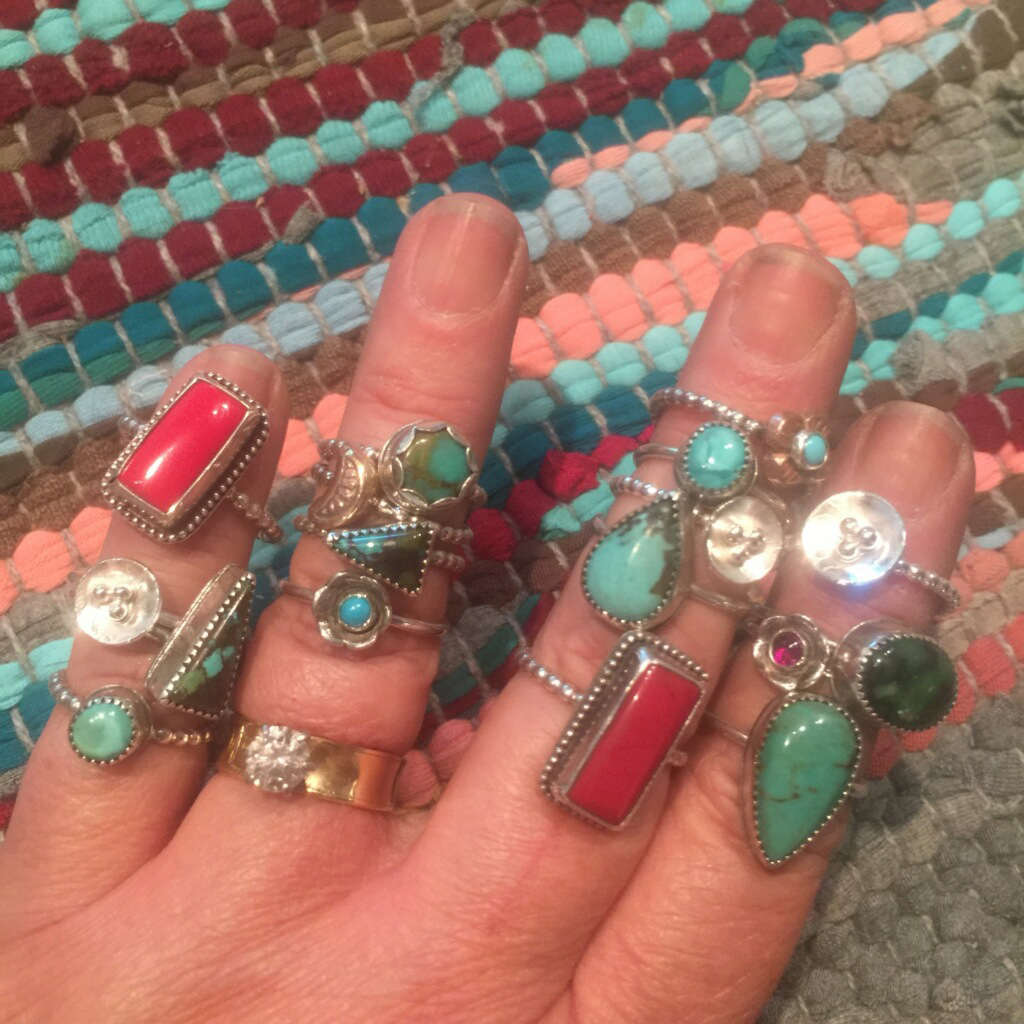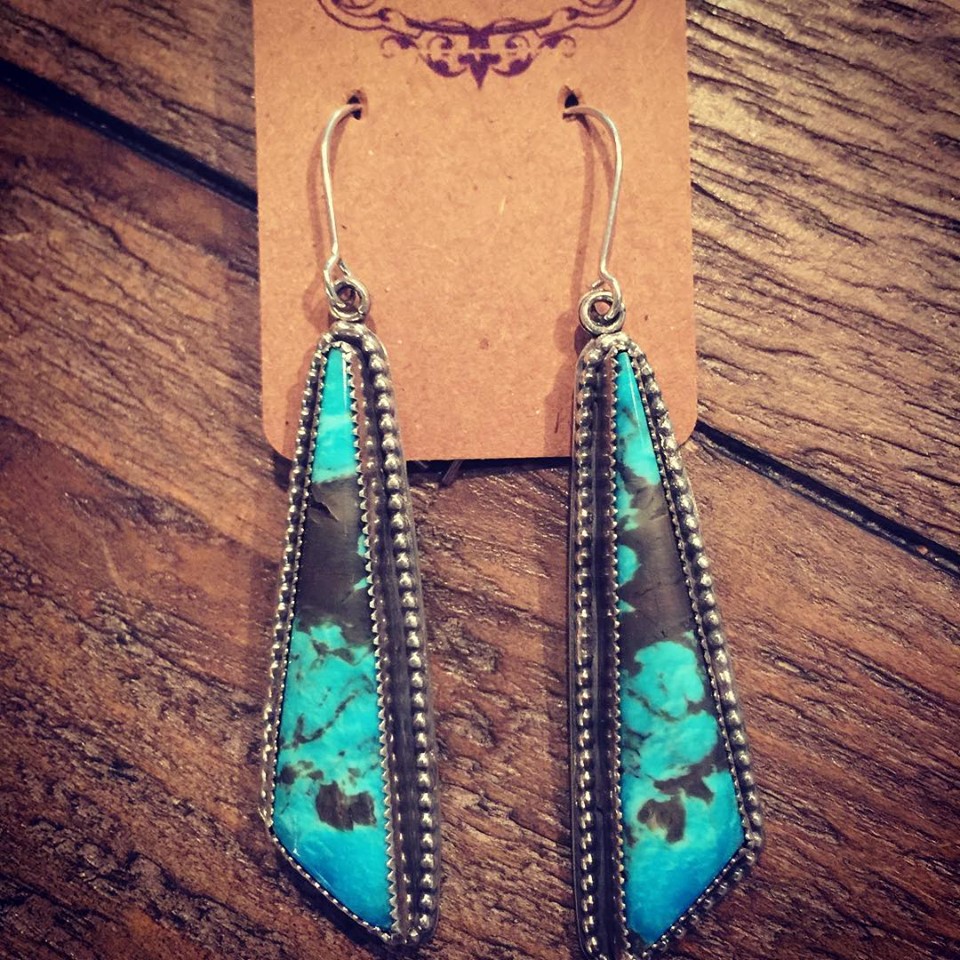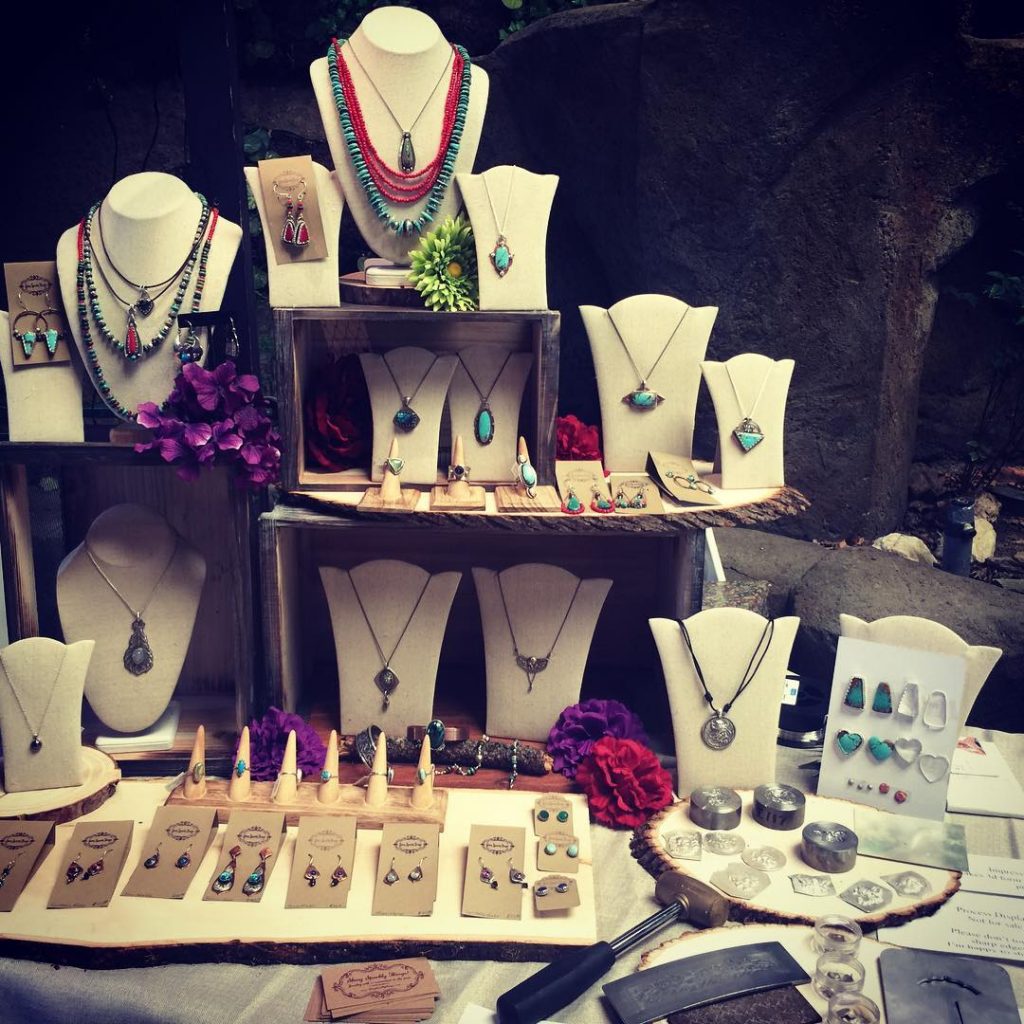 SPARKLING COUPLE GRACES FOOTHILLS 
An article about Sherri Bloomer and her husband:
They met at San Diego's Wild Animal Park. She sold tickets at the elephant ride, and he was the elephant trainer. Sherri Bloomer recounts, "Don was so sweet with the elephants, keeping them entertained and playing with them. He was so cute and just so very shy. I hinted for weeks, but in the end, had to be the one to ask him out."
Having her own interests, aside from a love of animals, Sherri had always been fascinated by jewelry from the time she received a rock tumbler in 5th grade. She grew up to manage Zales Jewelers in Reno and also went to school there, where she earned a B.S. in Biochemistry and an MS in Cellular and Molecular Biology. During college, she became very active in the art of Middle Eastern dance and eventually became a dance teacher. She directed an award-winning company, Ali Baba's Bellydance Productions, and was crowned Entertainer of the Year at Wiggles of the West in 1999.
Don and Sherri Bloomer spent 17 of their early years living in a studio above the Elephant Barn at John Ascuaga's Nugget in Sparks, Nevada, with their beloved elephants Bertha and baby Angel, with Don as caregiver for the animals. Don had been an elephant keeper and trainer for nearly 20 years at that point, and living in close proximity with, and being best friends with, Bertha and Angel was the highlight of his career. Elephants can live up to 50-60 years and the Bloomers were blessed to have such a long time with Bertha and Angel. Sadly, Bertha passed away from old age and a new home was found for the then-teenager Angel with a safe breeding herd at the Fort Worth Zoo. The Bloomers began to envision a new direction for their lives.
They moved to Seattle, which had a highly reputable elephant program at the Woodland Park Zoo for Don's career, and a large opportunity in the biotech industry for Sherri (as well as a very active bellydance community). Sherri retired from dancing in restaurants and special events due to her busy corporate life, instead focusing on selling crystal jewelry to bellydancers under her new business, Shiny Sparkly Things! She was able to keep in touch with her dance and community without the time required for teaching and performing.
When Don reached retirement age, the couple moved to Milpitas to have Don's dad live with them, rather than place him in a nursing home. Don's father was in his 90s and still incredibly vigorous, swimming almost daily.
Then, a couple of years ago, when Don's father passed, the Bloomers realized a change was in the air. When the couple had honeymooned in Yosemite, they had fallen in love with the Gold Country foothills and the Sierra Nevada, so they now searched for their dream home in the mountain region, found their niche, and moved to Arnold after having had their fill of the Bay Area congestion and stress. They never dreamed they would be able to live up here and are thrilled to have found their forever home.
Sherri still is active in her corporate work, but without the stress of commuting and daily traffic congestion. She continues her science and technology based career, able to work remotely from home. She works as a Clinical Trials Data Manager and is a specialist in oncology trials. A scientist and breast cancer survivor, Sherri has a few things to say about cancer treatment: "Western Medicine for oncology is the best and only medicine making inroads to curing certain types of cancer as well as allowing millions of people to live long term with other kinds of cancer." Her eyes light up, and with an engaging and warm smile, she says, "Personalized medicine is the next frontier and is a very exciting field to be involved in."
Inspired by where she lives, and new energy coming to her, Sherri has been on fire with her jewelry artwork, creating new designs and pouring the love of crafting in silver into her projects. Proving the old adage, "Beads are a gateway-drug to silversmithing," she works primarily now with silver and stones, especially turquoise. She collects steel dies originally carved at the turn of the 19th century and favors Art Nouveau designs. The master hobs for these old dies were painstakingly hand-carved, mostly in Europe. Sadly, they are today being sold off as scrap for the mere value of the steel. It's a fine old art, preserved by very few people. Sherri has found a machinist who collects and restores Victorian dies from the 1800s through mid-1900s, and she gleefully continues her passion for collecting.
Silversmithing now for the past six years, she realized a need for expansion and honing of her creative space. With a twinkle in her eye, Sherri explains remodeling plans on her home that will make the difference in their work and creative lives at home. She and her husband Don are currently building a large, shared work studio. Her part of the studio holds her jeweler's bench, with a special design that has been used by jewelers since antiquity. Additionally, benches are being designed for soldering, forging, enameling, and for holding her hydraulic press, a hydraulic press for cutting shapes and making silver impressions, and her newest baby, an electric rolling mill.
A supportive partner and creative maker, himself, Sherri's husband Don, will continue to use his part of the studio to create and manufacture detailed animated Halloween scenes. He blends electronic animation, sculpting, and computer programming to create amazing animatronic creatures. He fashions dark and dazzling worlds of the macabre. He motorizes all the elements and records voices, himself. A long-time member of the Northern California Haunters Guild, Don meets monthly with the group to make props and displays for Halloween. He comes home after a "Haunters" weekend with a new finished and functional Halloween prop. This fall, Don was excited about creating three spooky Trick or Treat environments for homes in Murphys, and despite the power outage, the displays were the talk of the neighborhood.
"Shiny Sparkly Things" is the perfect name for Sherri's jewelry business as well as an apt description of her enthusiastic and positively delightful energy. Visit her Shiny Sparkly Things jewelry displays at Manzanita Arts Emporium, gallery, and gift store, at 1211 South Main Street in Historic Downtown Angels Camp. Sherri is the featured November artist at the gallery, with a new silver and turquoise jewelry line of unique jewelry crafted for the show, running through the end of November. Contact Sherri at the gallery: manzanitawp@gmail.com – manzanitaartsemporium.com – 209-728-6171.