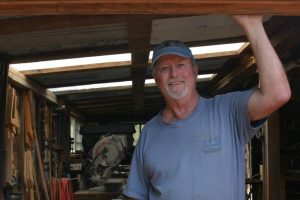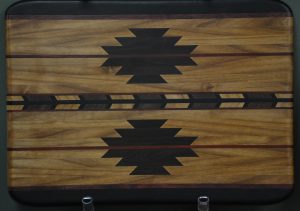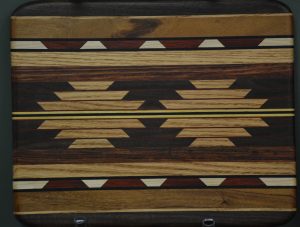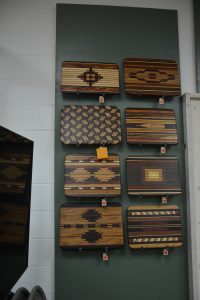 Rory Erbeck lives in Vallecito for over 35 years, and a carpenter, plumber, electrician by trade, showcases his one-of-a-kind designer cutting boards, made from many domestic and exotic hardwoods. They are food-ready, and all colors are natural. It takes approximately 5-10 hours to complete each one, having prepped the wood, depending on the weather.  Another thing interesting about Rory is that he was involved in theatre many years ago, with Kenny Ortega, director and choreographer, in the Redwood City Civic LIght Opera, and Menlo Players Guild in Menlo Park.
His boards can be used as cutting boards but most people could not bear to cut into something so beautiful, thus many of the boards grace homes as beautiful artworks. Rory utilizes woods such as black walnut, maple, wenge, yellow heart, purple heart, paduk, oak, blood wood, zebra wood, canary wood, lace wood, some mahogany in places, alder, bubinga, and others. They are cut, shaped, constructed, sanded, rubbed with mineral oil and beeswax in the final coating, and then are ready to mount.
The average size of one of Rory's  hardwood boards is about 12" X 16". Rory can be reached at rerbeck@comcast.net for any questions and arrangements. In the meantime, come into the gallery to see his display of gorgeous patterns.