New events planned: watch announcements. 
Poetry Day at Calaveras Big Trees State Park – July 15, 2023
Pop-up meet-and-greet your local author events at local venues!
Launch of Volume 4 – Voices in the Grove in Fall 2023
ARCHIVES
Canceled due to COVID:
April 16 FUNdraiser for Manzanita!
Gala event – Special Premier Viewing at Murphys Creek Theatre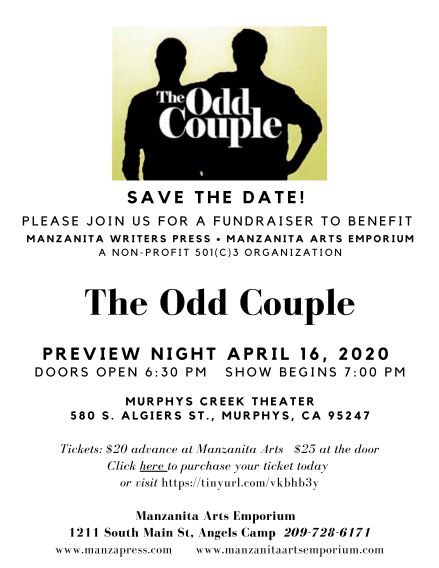 Purchase Your Ticket Now!
$20 in advance – purchase ticket online or at the Manzanita Arts Emporium in Angels Camp. Proceeds will assist the gallery in purchasing special lighting, help support the free Voices of Wisdom writing classes for seniors, and will help fund the Manzanita Speaker Series, as well as many other community projects for the arts, including free artist receptions, Song Posse (free acoustic music group sessions), Free Writers support meetings every week, and so much more!
This is shaping up to be a fun night. We are so excited about Murphys Creek Theatre offering Manzanita the gala premier showing of the Odd Couple as a FUNdraiser. Proceeds will assist in funding Voices of Wisdom, a free year-long weekly writing class for seniors to capture their memories, and assist in gallery upgrades. Hope to see everyone there! $20 per ticket in advance, and $25 at the door. Refreshments, Doorprize drawing, and art silent auction!
Here's an idea for the season – Let's dress up and wear white or black gloves with silk scarves to accent our look! Fashion statement from the 50s and early 60s! See you all there!